Pretty Little Pillow Cases
I love to turn down the bed at night and see pretty pillow cases and nice fluffy pillows just waiting for  me to lay my head down  Problem is, pretty pillow cases cost lots of money and I don't know why.  They don't take that much time or fabric to make them.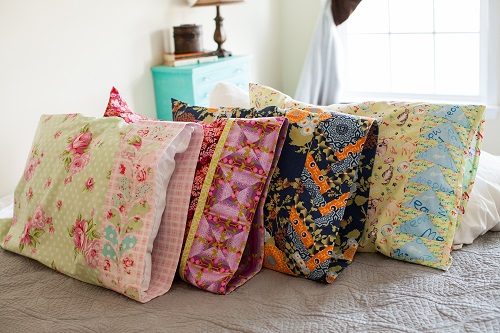 I decided to make everyone in my immediate family pillow cases for Christmas.  I used snuggle flannel and they are so soft and warm and comfy.  Josh and Travis received fishing themed cases.  Of course, Don's had motorcycles on it.  Tony's had monkeys, Jeannine had beautiful butterflies, Tatum and Hannah had a winter scene.  And of course,  Grady and Sterling had Super Heroes on their pillowcases.  I can say they were a hit!
I found this great tutorial on You Tube to get me started.
When I made the Christmas Pillow Cases, I didn't have my serger yet so  I used a French Seam to make sure everything was clean inside and out.  To make a French Seam I found another great tutorial on You Tube.
These pillowcases are fun and easy to make.  I enjoyed making them so much that I made 52 of them to donate to my Dad's favorite charity,  Boys and Girls Harbor in LaPorte, TX.
Please Share